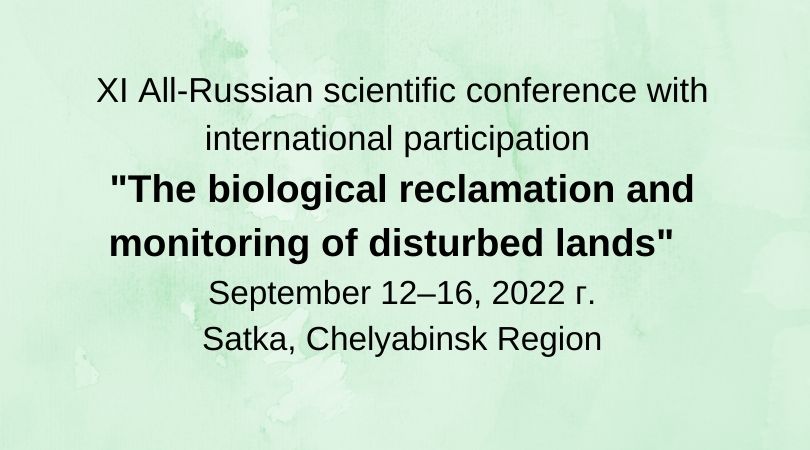 Dear colleagues! The Botanical Garden of the Ural Branch of the Russian Academy of Sciences and the Ural Federal University named after the first President of Russia B. N. Yeltsin invite you to take part in the XI All-Russian Scientific Conference with international participation, which will be held from 12-16 September 2022 in the city Satka, Chelyabinsk Region.
The purpose of the conference is to exchange views on topical problems of biological reclamation and monitoring of disturbed lands, coordinate scientific and scientific-practical research and discuss key research areas.
MAIN SCIENTIFIC DIRECTIONS (SECTIONS):
1. Ecological foundations of biological reclamation of disturbed lands, the results of experimental work.
2. Geochemical assessment and monitoring of the state of disturbed, reclaimed and degraded areas.
3. Ecotechnologies in urban greening.
4. Biological productivity and carbon deposition in technogenic landscapes.
Working languages: Russian and English
PLANNED FORMS OF PARTICIPATION:  
- face-to-face participation (plenary or oral presentation);
- correspondence participation (abstracts);
- poster presentations;
Contact details:
Conference email address: recultivation2022@mail.ru
Теl.: +7(922)174-42-88 Nadezhda Alexandrovna Kuzmina - WhatsApp, Viber, yarkaya05@mail.ru
Теl.: +7(343)322-56-47 Sergei Leonidovich Menshchikov
Теl.: +7(906)812-52-45 Konstantin Evgenievich Zavyalov
Теl.: +7(908)921-59-23 Pavel Evgenievich Mokhnachev
Теl.: +7(922)105-50-81 Margarita Alexandrovna Glazyrina
You can find additional information in the Information letter.