Журналы, доступные для скачивания
Информационный бюллетень Рабочей группы по журавлям Евразии. 2020. No15. / Newsletter of the Crane Working Group of Eurasia. 2020. #15.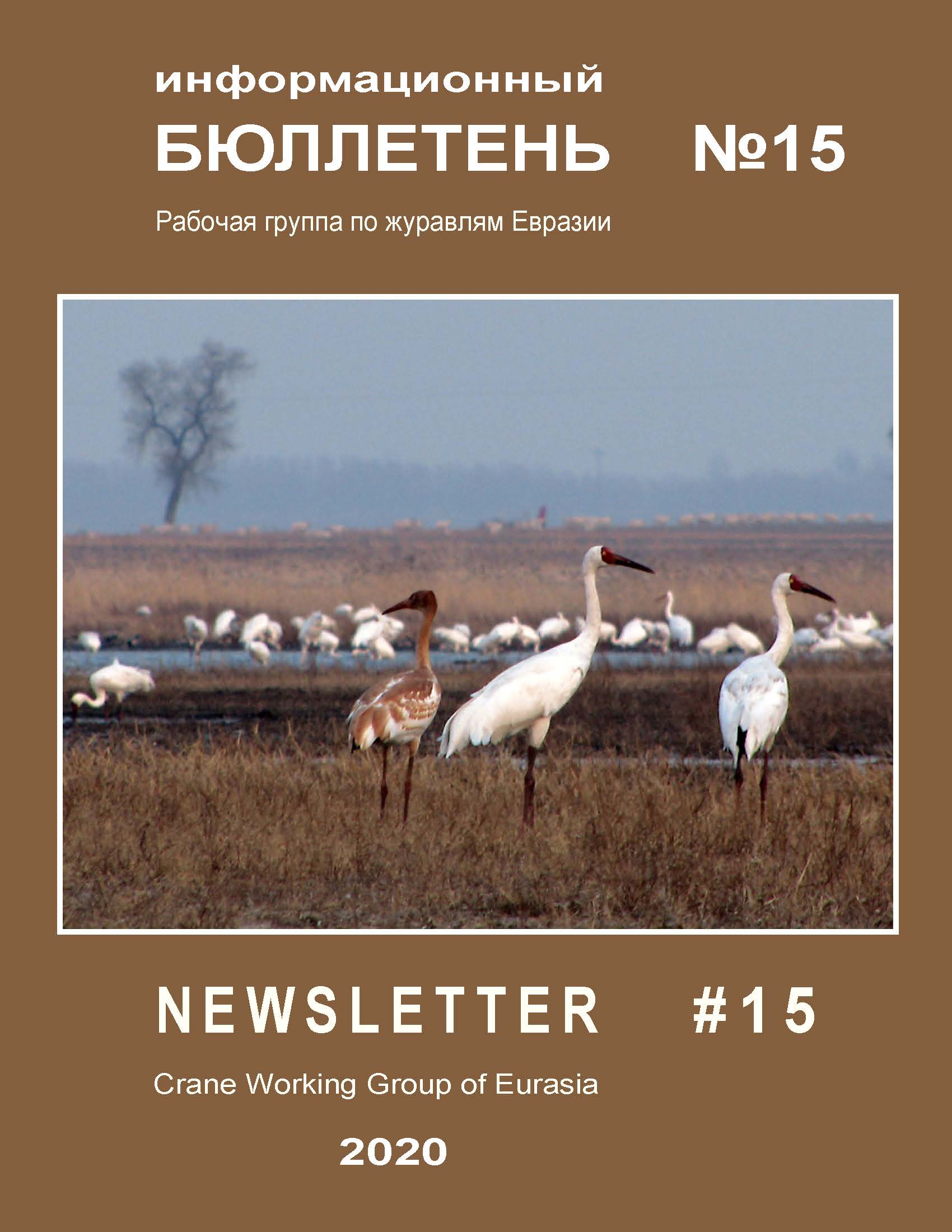 Рабочая группа по журавлям (РГЖ) CCCР создана в 1980 г. Основной предпосылкой создания РГЖ стало возникновение особого интереса к журавлям, как к малоизученной группе птиц, подвергающейся реальной угрозе исчезновения. Деятельность группы стимулировала исследования по журавлям и мероприятия по их спасению, повысила интерес профессиональных орнитологов и любителей природы к этим птицам.
В 1990 г. РГЖ фактически прекратила свою деятельность в связи с распадом СССР.
28 октября 2000 г. в Москве состоялось Учредительное собрание, объявившее о восстановлении деятельности Рабочей группы по журавлям Евразии (РГЖЕ) и определившее её цель: содействие охране и изучению журавлей в России и других странах дальнего и ближнего зарубежья. Одной из основных задач группы является распространение информации о современном состоянии популяций журавлей и мест их обитания, принимаемых и предлагаемых мерах охраны, проводимых научных исследованиях и международных проектах.
The Crane Working Group (CWG) of the USSR was created in 1980. The main prerequisite for the CWG creation was the emergence of a special interest in cranes as a poorly studied group of birds that is under real threat of extinction. The group's activities stimulated research on cranes and measures for their conservation, increased the interest of professional bird watchers and nature lovers to these birds. Due to the collapse USSR and other factors, in 1990 the Crane Working Group of the USSR ceased to be active. On 28 October 2000 in Moscow the Crane Working Group of Eurasia activity was announced with the main goal to protect and research on different crane species. The general task is compilation and distribution of information about current status of crane populations and conservation measures both in Russia and worldwide. 
Посмотреть или скачать Информационный бюллетень можно по ссылке / Download Newsletter 
Ссылки на журналы, издаваемые ИПЭЭ РАН

Журнал «Российский Журнал Биологических Инвазий» публикует оригинальные статьи в этой области знания. Язык публикации: русский. Статьи сопровождаются резюме / рефератом на русском и английском языках.

Журнал «Поволжский экологический журнал» публикует оригинальные исследования во всех областях экологии, а также теоретические и методические работы по экологии. Языки публикации: русский и английский. Статьи сопровождаются резюме / рефератом на русском и английском языках.
Ссылка на старый сайт Поволожского экологического журнала

Ruthenica, Russian Malacological Journal (Русский малакологический журнал) издается Институтом проблем экологии и эволюции им. А.Н.Северцова РАН, публикуется с 1991 г. и принимает статьи, посвященные систематике, морфологии, филогении и физиологии моллюсков, а также обзорные статьи на русском и английском языках.