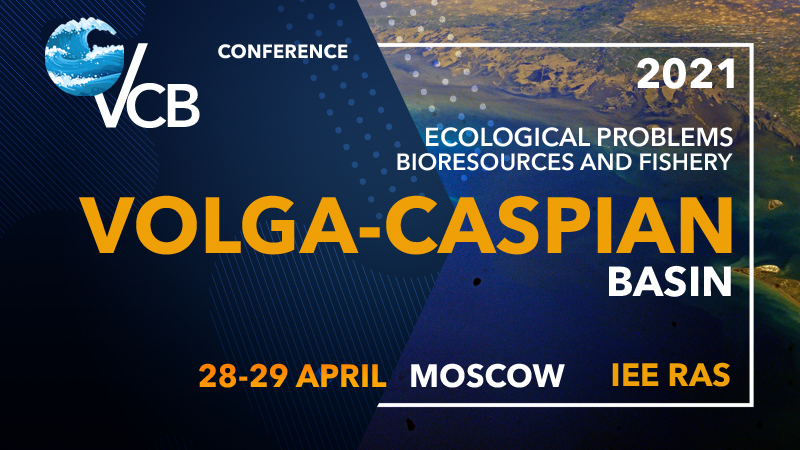 April 28-29, 2021 in the conference hall of the A.N. Severtsov Institute of Ecology and Evolution RAS, it is planned to hold the Conference with international participation "Environmental problems, biological resources and fisheries in the Volga-Caspian basin". Conference formats: face-to-face and online.
Conference organizers: Caspian Science and Innovation Council, IEE RAS, Russian Committee for the UNESCO «Man and the Biosphere» Program of the United Nations, VNIRO.
Venue of the meeting and online broadcast of the Conference: Moscow, Leninskiy prospect, 33, IEE RAS, 1st floor, conference hall.
Co-organizers of the round table "International cooperation in the development of ecological tourism and education: proposals and exchange of experience" (to be held within the framework of the Conference): Department of Recreational Geography and Tourism in conjunction with the Department of Physical Geography of the World and Geoecology of the Faculty of Geography of M.V. Lomonosov Moscow State University. Online broadcast of the round table - M.V. Lomonosov Moscow State University.
The conference will be devoted to topical issues of research and monitoring activities in the field of ecology and fisheries, conservation and sustainable development of the ecosystem during the operation of inland waterways, hydraulic structures, the development of shipping and fishing in the Volga-Caspian basin.
Heads and representatives of Rosprirodnadzor, Rosselkhoznadzor, Rosmorrechflot, as well as heads of scientific institutions of the Islamic Republic of Iran, the Republic of Kazakhstan and Turkmenistan are planning to take part in the Conference.
Their participation in the Conference was confirmed by the heads and representatives of public authorities, scientific institutions, public organizations and enterprises of the Astrakhan, Samara, Saratov, Volgograd, Nizhny Novgorod, Orenburg and Tver regions, Moscow, the Republic of Tatarstan, Bashkortostan, Dagestan and other Volga-Caspian regions.
Links to join the work of the Conference will be posted on the website www.caspiansovet.ru in the "News" section. Additional information on: +79161319059, caspiancouncil@mail.ru www.caspiansovet.ru.