LABORATORY OF BIRDS' ECOLOGY AND BIRDS' BEHAVIOR CONTROL
Address: Russia, 119071, Moscow, Leninskij prosp., 33 
Tel: 8(495) 954-75-53
       8(495) 954-55-34
e-mail: silaeva.o@gmail.com 
Headed by Olga L.Silaeva, Dr. Biol. Sci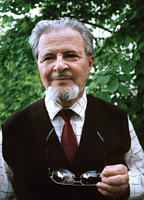 The Laboratory of Bird Ecology and Behavioral Management was established in 1973 by ProfessorDoctor V.D. Ilyichev, who was its head until 2013. 
The main task of the Laboratory is development of theory and practice for harmonization of mutual relations between man and birds on the basis of monitoring, behavioral and ecological studies, most importantly – rare, colonial and economically important species.
At present the Laboratory conducts research on the following topics:
• avian biological diversity, monitoring of rare and economically important species;
• theoretical and practical studies of colonial behavior in birds;
• ecological-ornithological monitoring;
• minimization/prevention of biologically harmful avian activity by managing their behavior in economically important zones in such a way that they are not harmed;
• protection of birds and their habitats;
• acoustic communication in birds;
• feather morphology (ptilology).
The Laboratory is the only one in Russia where identification research on the microstructure of single feathers and/or their fragments are conducted for the benefit of aviation ornithology in particular. The Laboratory coordinates activity of departmental and academic institutions in the field of applied ornithology within the International Committee on Applied Ornithology, European and International Committees on danger to airplanes posed by birds, and also within the Scientific Council of the Russian Academy of Sciences on questions of biological harm.
Сотрудники
| | | |
| --- | --- | --- |
| Ольга Леонидовна Силаева | Заведующая лабораторией  |  д.б.н. |
| Звонов Борис Михайлович | Ведущий научный сотрудник | д.б.н. |
| Сергей Анатольевич Букреев | Старший научный сотрудник | к.б.н. |
| Виктор Анатольевич Зубакин | Старший научный сотрудник | к.б.н. |
| Свиридова Татьяна  Владимировна | Научный сотрудник | к.б.н. |